Sumampan Waterfall is a well-kept secret in Bali, Indonesia. This breathtaking waterfall is hidden in the village of Kemenuh, just outside of Ubud. Although it is not as well-known as other waterfalls in Bali, Sumampan Waterfall is a must-see for nature and adventure enthusiasts.
Visitors can rent a scooter for roughly 60,000 IDR per day to reach to Sumampan Waterfall. The roads in Bali are generally in good condition, making travel to this destination simple. The sound of rushing water and beautiful foliage will greet you as you arrive. With its crystal-clear water pouring down a succession of rocks, the waterfall is a sight to behold.
Guests can have a refreshing swim or simply relax and enjoy the tranquil surroundings. Sumampan Waterfall is also a favorite weekend destination for locals. Sumampan Waterfall is the ideal destination for those looking for a less crowded waterfall experience in Bali.
Location of Sumampan Waterfall Bali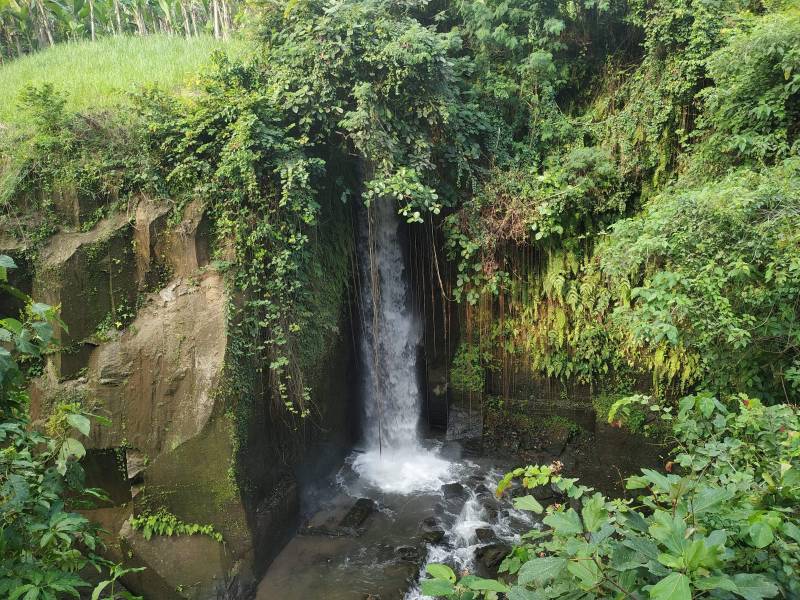 Sumampan Waterfall is a hidden gem located on the outskirts of Ubud, Bali, in the village of Kemenuh. Because this lesser-known waterfall is sometimes neglected by tourists, it is a pleasant and tranquil place to visit.
Accessibility
Sumampan Waterfall is easily reached by car or motorcycle. It will take approximately 1.5 hours to reach the waterfall from Kuta or Seminyak. The journey from Ubud takes about 20-30 minutes. The road leading to the waterfall is narrow and winding, so drive cautiously.
You'll need to go down a short path from the parking lot to reach the waterfall. The path is well-kept, although it can be slick at times, so wear suitable footwear.
Geographical Coordinates
Sumampan Waterfall's GPS coordinates are 8°36'22.8″S 115°17'53.0″E. The waterfall can be found using these coordinates on a map or GPS device.
Sumampan Waterfall is a stunning natural feature that is well worth a visit. Its remote location and peaceful environment make it an ideal place to get away from the crowds and appreciate the natural beauty of Bali.
History of Sumampan Waterfall Bali
Sumampan Waterfall, located on the outskirts of Ubud in the Kemenuh settlement, is a hidden beauty that many tourists ignore. Despite its relative obscurity, the waterfall has a long and illustrious history.
Sumampan Waterfall has long been regarded as sacred by the residents of Kemenuh village. They think that the waterfall is home to a powerful spirit who guards the area. As a result, the waterfall has long been a place of prayer and pilgrimage.
Sumampan Waterfall has grown more accessible to visitors in recent years. The local government has invested in infrastructure and facilities to make it easier for visitors to see the waterfall as tourism in Bali has grown. Notwithstanding these changes, the locals have worked hard to preserve the site's spiritual value.
Visitors to Sumampan Waterfall today can still enjoy the natural beauty and spiritual aura that have drawn people to the site for generations. You'll travel through beautiful flora and hear the sound of rushing water in the distance as you make your way down the route to the waterfall. When you arrive at the waterfall, you will be welcomed by a breathtaking natural wonder that will take your breath away.
Sumampan Waterfall, in summary, has a rich history that is profoundly entwined with the local culture and spirituality of Kemenuh village. Despite its growing popularity among tourists, the waterfall is still very important to the locals, who are working hard to conserve its spiritual energy and natural beauty for future generations.
Read also : Kanto Lampo Waterfall Bali: A Natural Wonder to Explore
Physical Features of Sumampan Waterfall Bali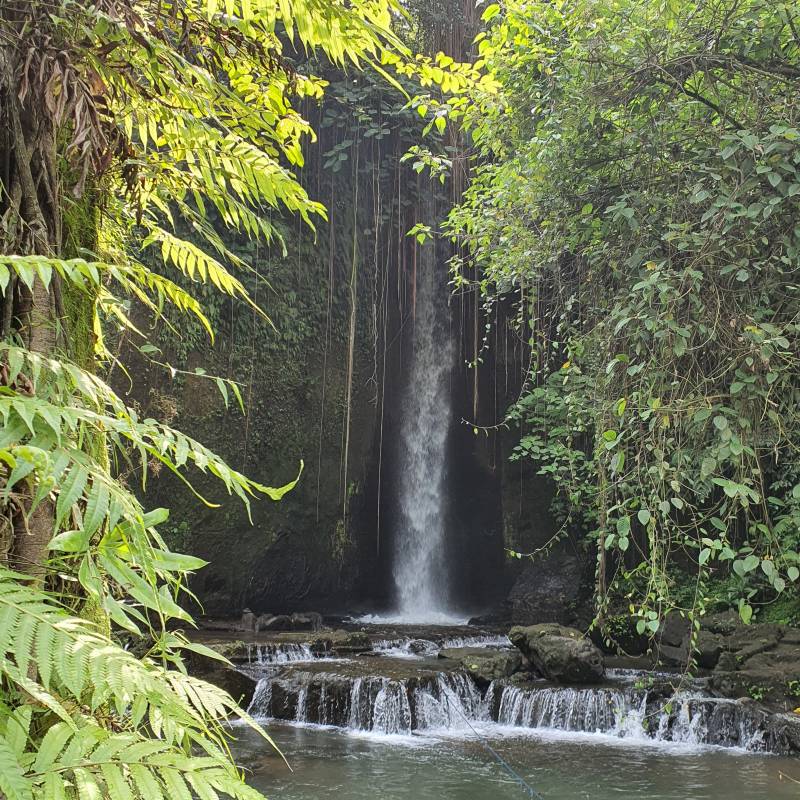 Water Quality
Sumampan Waterfall's water is crystal pure and soothing. Because the waterfall is supplied by a natural spring, the water quality is outstanding. The water is also cold, making it ideal for cooling off on a hot day. Visitors are welcome to swim and play in the waterfall pool, but they should exercise caution because the rocks might be slippery.
Flora and Fauna
The surrounding region of Sumampan Waterfall is lush and verdant, with a diverse range of plants and trees. Bamboo, coconut trees, and other tropical vegetation can be seen by visitors. A variety of wildlife, including birds, butterflies, and fish, live in the waterfall. Colorful fish can be seen swimming in the waterfall pool by visitors. A forest surrounds the waterfall, which is home to monkeys and other species.
Sumampan Waterfall is a stunning natural attraction with crystal-clear water, luxuriant greenery, and a wide variety of wildlife. Guests can swim, play, and rest in the cold water while admiring the breathtaking natural surrounds.
Activities at Sumampan Waterfall Bali
There are numerous activities available when visiting Sumampan Waterfall in Bali. Here are some of the top Sumampan Waterfall activities:
Hiking
Hiking is one of the best ways to appreciate the splendor of Sumampan Waterfall. The hike to the waterfall is pretty short, lasting around 15-20 minutes. You'll be surrounded by lush vegetation, towering trees, and the sounds of nature along the way. When you approach the waterfall, you can rest and take in the spectacular sights.
Photography
The Sumampan Waterfall is a photographer's dream. With its natural beauty and lovely surrounds, it's the ideal location for some memorable photographs. You can photograph the waterfall from a variety of perspectives, including the top, bottom, and sides. You can also photograph the local flora and fauna.
Swimming
Swimming in the cool waters of Sumampan Waterfall is a terrific way to cool down and relax in the heat. The waterfall features a natural pool at its base that is ideal for swimming. The water is clear and soothing, and you can take a dip while admiring the natural beauty of the waterfall.
Overall, Sumampan Waterfall is a wonderful site to visit if you want to get away from the hustle and bustle of Bali. It's the ideal site to spend a few hours or maybe an entire day because of its natural beauty, hiking paths, and swimming chances.
Read also : Leke Leke Waterfall Bali: A Hidden Gem Worth Exploring
Travel Tips for Sumampan Waterfall Bali
When visiting Sumampan Waterfall in Bali, keep the following travel guidelines in mind to guarantee a safe and memorable experience. These are some of our best advice:
Best Time to Visit
The dry season, which lasts from April to October, is the greatest time to visit Sumampan Waterfall. The waterfall is at its peak at this time, and the weather is dry and sunny. This, however, means that the waterfall may become more congested with tourists.
If you want to avoid crowds, go during the rainy season, which lasts from November to March. While the waterfall may not be as crowded at this time of year, the rich foliage and fewer people can provide for a more serene experience.
Safety Precautions
When visiting Sumampan Waterfall, it is critical to take basic steps to protect your own safety as well as the safety of those around you. These are some things to remember:
Wear robust, non-slip shoes: The path to the waterfall can be slick and uneven, so wear sturdy, non-slip shoes.
Keep an eye on your step: Maintain good footing and keep an eye out for loose pebbles or debris on the path.
Don't swim too close to the waterfall: While swimming under the waterfall may be appealing, the force of the water can be deadly. Keep to the approved swimming areas and keep a safe distance from the waterfall.
Keep a watch on your valuables: While Sumampan Waterfall is normally a safe site to visit, it is always a good idea to keep a check on your belongings and not leave them unattended.
By keeping these tips in mind, you can ensure a safe and enjoyable visit to Sumampan Waterfall in Bali.
See also : Banyumala Waterfall in Bali: A Hidden Gem for Nature Enthusiasts
Frequently Asked Questions
Is swimming allowed at Sumampan waterfall?
Swimming is permitted at Sumampan waterfall. The pool at the waterfall's base is deep enough for swimming, but visitors should use caution because the rocks can be slippery.
What is the entrance fee for Sumampan waterfall?
The entrance fee for Sumampan waterfall is IDR 20,000 per person, which is approximately $1.40 USD.
Which is the most popular waterfall in Bali?
Tegenungan waterfall, located in the town of Kemenuh just a few kilometers from Sumampan waterfall, is Bali's most popular waterfall. Tegenungan waterfall is significantly larger and busier than Sumampan waterfall, yet it is still well worth a visit.
What are some other waterfalls near Sumampan waterfall?
Other waterfalls around Sumampan include the Goa Rang Reng waterfall, the Kanto Lampo waterfall, and the Tukad Cepung waterfall. These waterfalls are all within a short driving distance of Sumampan waterfall and are well worth a visit if you have the time.
What is the best time to visit Sumampan waterfall?
Sumampan waterfall is best visited during the rainy season, which lasts from October to March. The waterfall is at its fullest and most magnificent during this time. Nonetheless, expect heavy rain and muddy trails.
How do I get to Sumampan waterfall?
You may hire a vehicle or rent a scooter in Ubud to travel to Sumampan waterfall. The waterfall is roughly 30 minutes from Ubud and is clearly marked. Once you arrive, there is a short jungle walk down to the waterfall.