The Kanto Lampo Waterfall in Bali is a little-known jewel that is starting to attract more and more visitors every year. This waterfall in the Gianyar region, not far from Ubud, is a popular destination for tourists interested in nature and outdoor activities. The recognizable rock formation that gives the cascade its distinctive "step-like" look is a major draw for visitors and photographers alike.
After taking pictures inside the waterfall itself, guests can cool off in one of the adjacent pools. Visitors standing at the base of Kanto Lampo waterfall have the impression that they are deep in the jungle of Ubud, as the waterfall is located in a canyon and the water seeps down the rocks into a river. The dry season (April–October) on the island is ideal for a visit to Kanto Lampo waterfall.
Parking is free, and admission to the waterfall is 15,000. Every day, from 6:30 AM to 5:30 PM, visitors can enjoy the waterfall. Kanto Lampo waterfall is becoming increasingly popular, yet it still manages to remain somewhat uncrowded, making it a great place to go if you want to avoid the crowds while still being able to appreciate nature.
Location of Kanto Lampo Waterfall Bali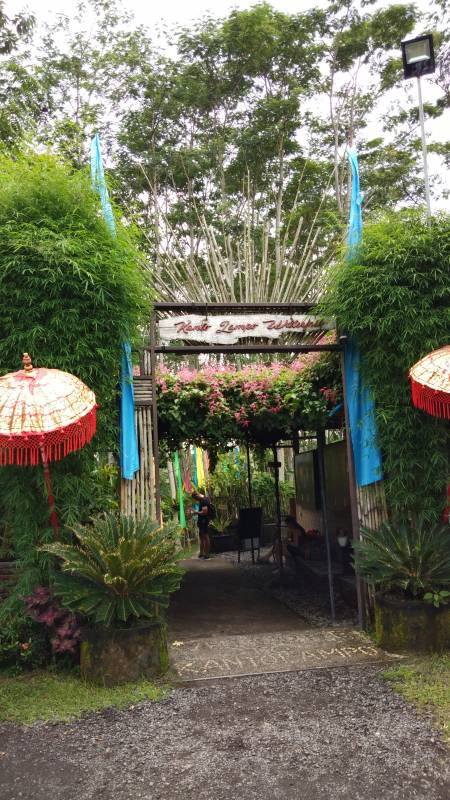 During our time in Bali, we were able to enjoy a trip to the beautiful Kanto Lampo Waterfall. The Gianyar district of Bali is home to the stunning waterfall not far from the cultural center of Ubud.
We had to make our way through some congested streets and descend several flights of steps to reach the Kanto Lampo Waterfall. Yet the trip was well worth it in the end. There was a gorgeous waterfall that was surrounded by verdant vegetation, and the sound of gushing water greeted us as we approached.
Because of its canyon setting, Kanto Lampo Waterfall is both striking and photogenic. A tranquil and quiet ambiance is created by the waterfall as it flows down the rocks and into the river below.
The way down to Kanto Lampo Waterfall is a little slick, so make sure to wear shoes with good traction if you plan on coming. If you want to avoid the crowds, it's best to visit the waterfall first thing in the morning, as it tends to get busy during the day.
In conclusion, Kanto Lampo Waterfall is a Bali attraction that should not be missed. Because of its strategic placement and gorgeous appearance, it is an absolute must-see for any tourist visiting Bali.
How to Reach Kanto Lampo Waterfall Bali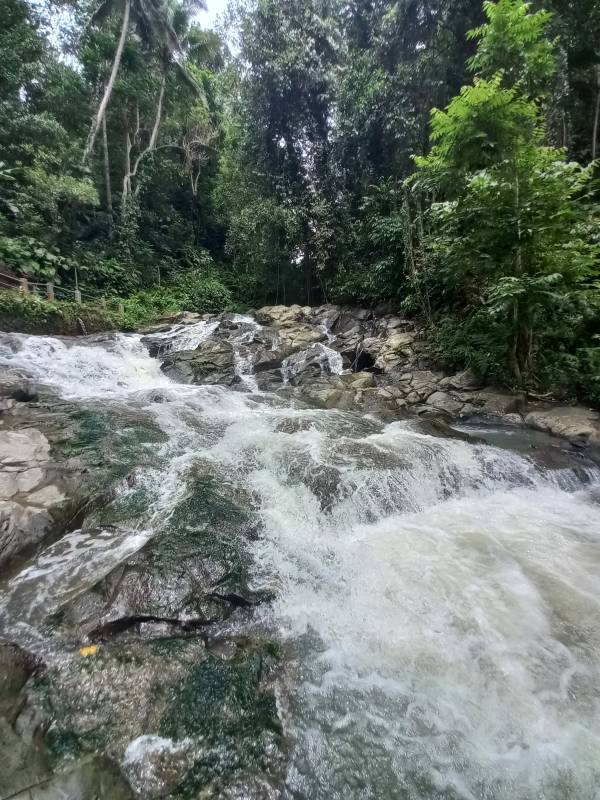 If you are planning to visit Kanto Lampo Waterfall Bali, here are some ways to reach the destination:
By Car or Scooter
Renting a car or scooter will get you to Kanto Lampo Waterfall quickly and easily. The journey from Ubud, the closest city, to the waterfall takes around 30 minutes. Ubud, as well as the other adjacent towns, are great places to rent a car or scooter. The roads to the waterfall have been kept in good condition and are simple to follow.
By Taxi
Using a taxi is another viable alternative for getting to Kanto Lampo Waterfall. Ubud, as well as the other adjacent towns, all provide taxi services. This choice, however, may be more costly than hiring a car or scooter. Before beginning your trip, be careful to settle on a fare.
By Public Transportation
You can go to Kanto Lampo Waterfall by taking the bus, although it can take you a while. It is possible to reach Kanto Lampo Waterfall by taking a bus from Ubud to Gianyar and then switching to a different bus at Gianyar. Nevertheless, there aren't many buses, so it may take up to two hours to get there.
Tour Packages
A trip to Kanto Lampo Waterfall can be included in a hassle-free vacation package. Transportation, a guide, and sometimes even lodging are all part of the package offered by many tour companies. Nonetheless, the cost may be high in comparison to alternative choices.
Renting a car or scooter is the quickest and cheapest method to go to Kanto Lampo Waterfall in Bali.
Best Time to Visit Kanto Lampo Waterfall Bali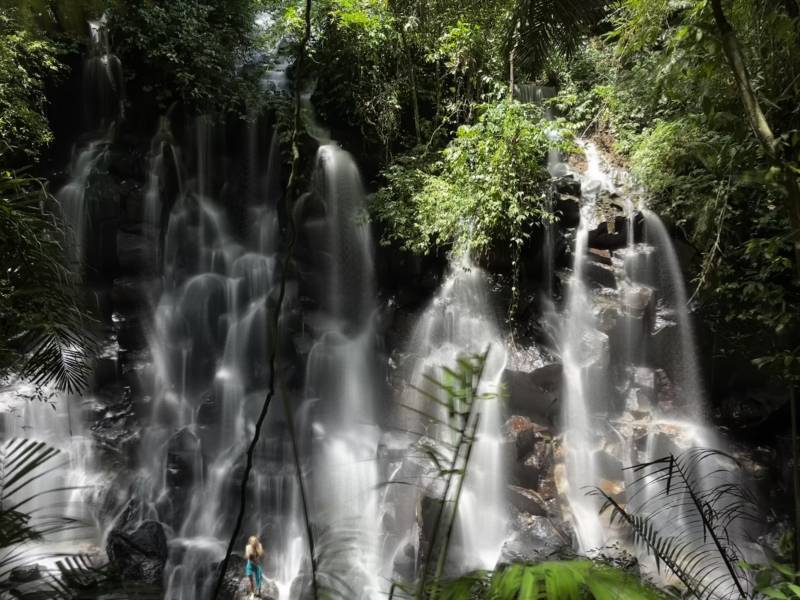 If you're thinking of visiting Bali's Kanto Lampo Waterfall, now is the time to do it. The waterfall is accessible year-round, however some seasons are more ideal than others for viewing it.
The dry months of April through September are ideal for a trip to Kanto Lampo Waterfall. The weather is typically sunny and dry throughout this season, allowing for easy access to the waterfall and exploration of the surrounding area. At these times, the water is not as deep, making it safer for swimming and other aquatic activities.
Traveling between October and March, the rainy season, might be more trying. Water levels at the waterfall can rise rapidly after a downpour, making it difficult to approach. When it rains, the trail to the waterfall often becomes muddy and slippery, adding to the challenge of getting there.
If you must go during the wet season, make sure to research the weather in advance and pack accordingly. However, the currents in the water may be stronger at this time, so be careful if you plan on going swimming or playing in the water.
Overall, the dry season is the greatest time to explore Kanto Lampo Waterfall. You can visit the waterfall and its environs any time of the year if you plan beforehand.
What to Expect at Kanto Lampo Waterfall Bali
It's important to know what to anticipate on your trip to Bali's Kanto Lampo Waterfall. Certain specifics of your trip are outlined in the following sections.
The Scenery
Kanto Lampo Waterfall has stunning natural beauty. There are lots of trees and plants that are bright green as you go closer to the waterfall. The setting of the waterfall in a canyon only enhances its natural splendor. You'll really feel like you're in the heart of the Ubud jungle. The paths leading to the waterfall have been kept in good condition and are simple to follow.
The Waterfall
The Kanto Lampo Waterfall consists of several cascades that drop into a river from a rocky cliff face. Tourists and photographers flock to the waterfall because of the distinctive rock formation that gives it an outstanding stair-like look. You can shoot pictures while standing inside the waterfall and then swim in the ponds that have formed around it. It's an excellent way to cool off after a long hike, as the water is refreshing and chilly.
Wildlife
You never know what kind of wildlife you could encounter on your trip to the waterfall. There will be a variety of winged creatures and insects to observe. You might even see some monkeys if you're lucky! Keep in mind that these creatures are in their natural habitats and should not be touched. Don't get too close, and definitely don't feed the animals.
If you're in Bali, you really must stop by the Kanto Lampo Waterfall. The natural beauty, waterfall, and abundance of wildlife make for an unforgettable adventure. You'll need to bring hiking boots and be ready for a short distance to get to the waterfall.
Activities at Kanto Lampo Waterfall Bali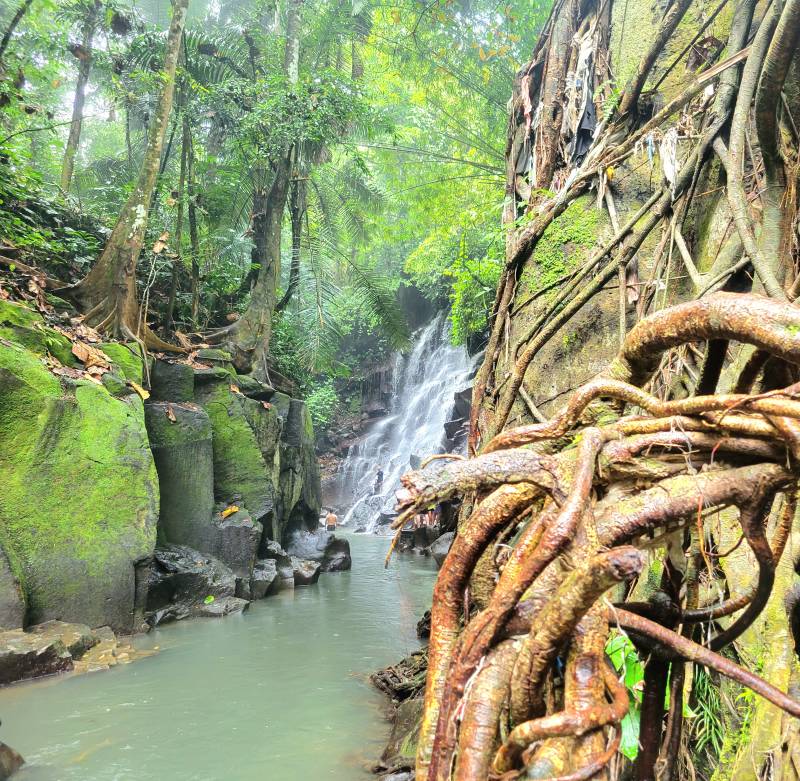 Planning a trip to Bali? Be sure to add a stop at Kanto Lampo Waterfall to your itinerary. Visitors can enjoy a variety of activities at this beautiful waterfall, which is situated in the middle of Bali's rainforest. Some of the best things to do when visiting Kanto Lampo Waterfall include:
Swimming
Swimming is a favorite pastime at Kanto Lampo Waterfall. At the base of the waterfall lies a natural pool filled with chilly water, perfect for a relaxing swim. The pool is set in a beautiful natural setting, with towering cliffs and verdant vegetation all around. You should be a strong swimmer or have a life jacket handy because the water can be fairly deep in some spots.
Photography
Photographers frequently visit Kanto Lampo Waterfall. The stair-like shape of the waterfall and its breathtaking setting make it an ideal photographic subject. Tourists can take pictures of the waterfall from a variety of vantage points, including gazing up from below or down from above. It's also a lovely setting for family photos or group shoots.
Hiking
Hikers will appreciate the short but beautiful trek through the woods to reach Kanto Lampo Waterfall. The hike to the waterfall shouldn't take more than fifteen to twenty minutes. There is a lot of beautiful vegetation and wildlife to see along the journey. The hike is a fantastic opportunity to take in Bali's stunning natural scenery.
If you're in Bali, you really must stop by the Kanto Lampo Waterfall. This beautiful waterfall is perfect for a variety of activities, including swimming, photography, and hiking.
Nearby Attractions
There are several other attractions near Kanto Lampo Waterfall that you can visit while in Bali. Here are some of our top recommendations:
Tegenungan Waterfall
Another well-known waterfall in Bali is Tegenungan Waterfall. It is around a half-hour drive from Kanto Lampo Waterfall and is well-known for its towering height and picturesque surroundings. The natural pool at the base of the waterfall is a popular place to swim, but visitors should expect to share the area with many others.
Goa Gajah Temple
A distinctive temple, Goa Gajah Temple (or Elephant Cave) is found within twenty minutes from Kanto Lampo Waterfall. With historic sculptures and buildings, it has been designated as a UNESCO World Heritage Site. There is tranquility and abundant vegetation all around the shrine.
Tegalalang Rice Terrace
The Tegalalang Rice Terraces are an iconic Bali landmark. It takes around 45 minutes to get there from Kanto Lampo Waterfall, but the scenery of rice paddies and terraces is well worth the trip. You may either go on a guided tour or just take a leisurely stroll around the fields to take in the scenery.
Ubud Monkey Forest
A nature reserve and temple complex, Ubud Monkey Forest may be reached from Kanto Lampo Waterfall in about twenty minutes. Almost 700 monkeys call this place home, along with a number of historic temples. You may view monkeys in their natural environment by taking a stroll through the forest, but be wary of their mischievous nature.
Bali Zoo
The Bali Zoo is a fantastic place for kids of all ages to have fun. Around 45 minutes away from Kanto Lampo Waterfall, this zoo is home to elephants, tigers, and even orangutans, among other species. Animal encounters and feeding sessions are another option.
In general, there are many interesting places to see in the neighborhood of Kanto Lampo Waterfall. There is something for everyone in Bali, whether they are interested in wildlife, culture, or the great outdoors.
Accommodations Near Kanto Lampo Waterfall Bali
Where you stay in Bali during your visit to Kanto Lampo Waterfall should be one of your first considerations. Fortunately, there is a wide range of lodging options in the neighborhood to choose from.
Resorts
There are a number of high-end hotels in the area around Kanto Lampo Waterfall for those who can afford it. Just a short distance away, at the Kayon Resort, you can take in breathtaking panoramas of the jungle and rice farms. There is a spa, a restaurant, and an infinity pool at this resort with views of the valley.
The Adiwana Unagi Suites in adjacent Gianyar are another option. In addition to a restaurant and spa, this resort features spacious suites with outdoor showers and plunge pools.
Hotels
There are a number of reasonably priced motels in the area around the Kanto Lampo Waterfall. The Pondok Serayu is a charming inn that can be reached from the waterfall in under ten minutes by car. The hotel provides guests with a pool, a restaurant, and complimentary wireless Internet.
The Umah Dajane Guesthouse is an excellent choice for those interested in experiencing authentic Balinese culture. The resort has an outdoor pool and a restaurant decorated in the style of traditional Bali.
Vacation Rentals
Those who would like to have more freedom during their trip to Kanto Lampo Waterfall can choose from a number of different vacation homes. The town of Ubud, where many of these accommodations are found, is not far distant.
Villas with private pools and traditional Balinese residences are just two of the many types of accommodations that can be found on Airbnb. Views of the rice paddies and jungle from several of these accommodations are breathtaking.
Whether you're looking for a five-star resort or a cheap motel, you'll have no trouble finding a place to stay near Kanto Lampo Waterfall on Bali.
Local Culture and Etiquette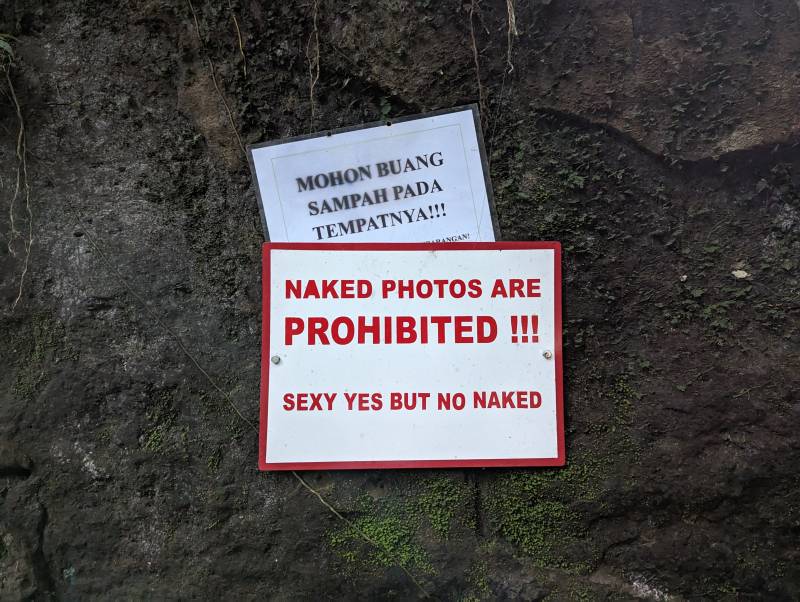 It's crucial to be respectful of local customs and traditions when exploring Kanto Lampo Waterfall. Some things to keep in mind are as follows.
It is recommended to dress modestly when visiting Kanto Lampo Waterfall, as it is a natural attraction in a traditional Balinese hamlet. Shoulders and knees should be covered. In addition, upon entering a temple or other religious building, visitors are expected to remove their shoes.
Kanto Lampo Waterfall is located in the traditional village of Beng, which has a strong feeling of community and should be treated with respect. Travelers should be cognizant of the cultural norms of the host country. Always make sure to get people's permission before shooting their pictures.
It is crucial to respect all natural sites by not leaving any traces of your visit. This includes keeping the area clean and undamaged and not throwing trash about. Moreover, to maintain the preservation of the region, it is essential to adhere to any standards issued by local authorities.
Culture vulture alert! A trip to Kanto Lampo Waterfall is a fantastic way to immerse yourself in Balinese tradition. The hospitable locals welcome visitors and are happy to share their culture and customs. In addition, guests have the option of attending local cultural events such as performances and ceremonies.
Visitors to Kanto Lampo Waterfall will gain a deeper understanding of and appreciation for the area if they follow local customs and manners.
Frequently Asked Questions
What is the entrance fee for Kanto Lampo Waterfall?
Kanto Lampo Waterfall will charge visitors IDR 20,000 (about $2) beginning in September 2023. Free admission is offered to those under the age of 12.
How long does it take to walk to Kanto Lampo Waterfall?
It takes about ten to fifteen minutes to reach Kanto Lampo Waterfall on foot from the parking lot. The path can get a little rocky and slippery, so make sure you're wearing sturdy shoes.
Can you swim in Kanto Lampo Waterfall?
The pool at the bottom of Kanto Lampo Waterfall is swimmable. It's vital to exercise caution, however, because the water depth and current strength might be very high.
What are the opening hours for Kanto Lampo Waterfall?
Kanto Lampo Waterfall is open every day from 8:00 AM to 5:00 PM.
What is the distance between Kanto Lampo Waterfall and Tibumana Waterfall?
The distance between Kanto Lampo Waterfall and Tibumana Waterfall is approximately 12 kilometers. It takes around 30-40 minutes to drive between the two waterfalls.
When is the best time to visit Kanto Lampo Waterfall?
The best time to visit Kanto Lampo Waterfall is during the dry season, which runs from April to September. During this time, the water is clearer and the weather is generally more pleasant. However, it's important to note that Bali's weather can be unpredictable, so it's always a good idea to check the forecast before planning your visit.